Products
Microsoft 365 is the set of indispensable tools for any company that wants to be productive in the century. XXI.
Combine the Office applications you are used to (Word, Excel, Outlook and Powerpoint) with the collaboration and team management applications (Onedrive, Teams, To-Do, Planner), enhancing the digital transition of companies with Forms , Power Apps, Power Automate and Power BI and all integrated into a secure and constantly evolving ecosystem.
We have been Microsoft partners since 2016 and we have the know-how necessary to help companies start using this whole range of services - no implementation costs, no integration costs!
Adobe is one of the world's leading companies in productivity software and graphic design. The famous Adobe Acrobat DC software is the most effective tool for editing PDFs, extracting and converting images into a searchable format and digitally signing documents using the Adobe Document Cloud.
Add Adobe Creative Cloud tools to synchronize, collaborate, edit and create any type of content and access exclusive content that will allow any design or communication team to become more productive.
As Adobe partners, we are able to resell the entire product range as well as provide technical support to the end user.
Using the best cybersecurity tool in the world makes life easier for anyone or highly busy IT departments. If your business is growing or is facing security constraints associated with digital transformation processes, most likely your company's future is at risk.
Choose Kaspersky's solution for instant and scalable protection to your business needs.
| | |
| --- | --- |
| | Who takes care of Your Safety? IT Admin |
All-in-one security, ease of administration for IT managers who take care of multiple tasks, including systems security.
No extra servers or costs associated with software deployment.
Cloud hosting.
Protection for any device - free, integrated mobile device protection.
Instant protection through predefined security policies.
Software always up to date.
Kaspersky endpoint security cloud
1 User = 1 Computer / Server & 2 Mobile Devices
Cloud Provisioning
Telephone Assistance, Remote, In-site
Kaspersky endpoint security cloud Plus
1 User = 1 Computer / Server & 2 Mobile Devices
Cloud Provisioning
Telephone Assistance, Remote, In-site
| | |
| --- | --- |
| | Who takes care of Your Safety? CIO |
The best security tool for organizations with teams responsible for mixed infrastructures and IT department (s).
Defend your business with Automatic Endpoint Detection & Response (EDR) and Sandbox coupling with your endpoint protection.
Maximize the number of incidents processed without increasing personnel costs.
Prevent the exposure of employees and your business to attacks.
Climb easily and nimbly while holding multiple environments and platforms.
kaspersky endpoint security for business select
1 Device = 1 Computer or 1 Server or 1 Mobile Device
Provisioning via Dedicated Server
Telephone Assistance, Remote, In-site
kaspersky endpoint security for business advanced
1 Device = 1 Computer or 1 Server or 1 Mobile Device
Provisioning via Dedicated Server
Telephone Assistance, Remote, In-site
The NEW.Backup tool developed by NewAlliance IT allows any IT Administrator to access the backups of the machines of a given user / machine, controlling whether they are being performed correctly, the frequency, the space used and the storage source.
It is also possible for a given IT Administrator to provide access to certain users so that they have control over their information.
The tool is available for Windows, Linux and macOS and can be accessed anywhere in the world. Press the button below and get access to a sample, without obligation.
The Zabbix monitoring platform allows any company to have real-time visibility of the status of any IT equipment - Servers, Routers, Switches, Workstations, Operating Systems and Databases, enabling the correction of failures before they happen and preventing break times for systems as well as employees. 
This tool is indispensable in any type of company - from SMEs, IT Administrators to technical support companies and can be implemented on-site or in the Cloud.
Press the button below and start gaining control over the state of your computer park and network!
The GLPI platform allows you to centralize all reports of orders / incidents in a single tool that complies with international ITIL standards® Foundation (ITIL® V2). It is an excellent tool for technical support teams at a fraction of competitors' costs (ie ServiceNow, JIRA or Zendesk) with features like:
Automatic update based on the status of terminal equipment;

 Inventory of equipment, network devices, consumables and any others to be added;


Management of licenses, budgets, suppliers, contracts, documents, certificates;

Creation of Forms, Project Management, Knowledge Bases (KB) and Alerts pages;

Automatic issuance of proforma invoices, work orders and the possibility of i

ntegration with LDAP Servers, E-mail;
Hundreds of Open Source plugins capable of customizing and adding functionality to the base package, at no additional cost.
This platform is suitable for IT Support Teams, Data Protection Officers (DPO), Quality, Environment and Security Teams (QAS), Project Managers or simply any company that wants to automate its workflows beyond e- mails and shared folders.
With the possibility of being implemented On-site or in the Cloud - become more efficient and be more agile than your competition. Talk to us.
Equipment and Tickets Management
Treatment of Personal Data
Document Management and Data Flows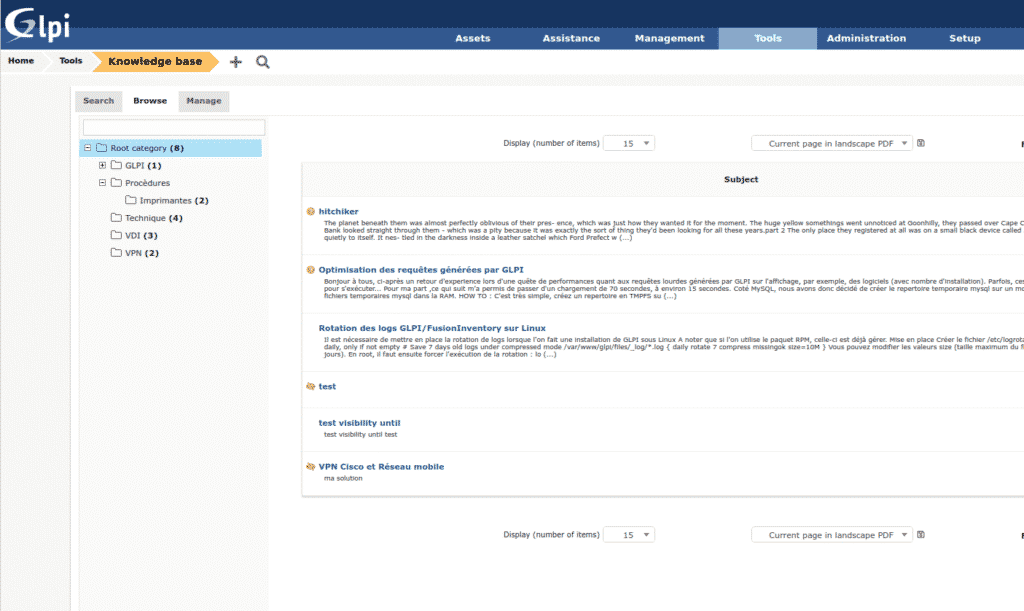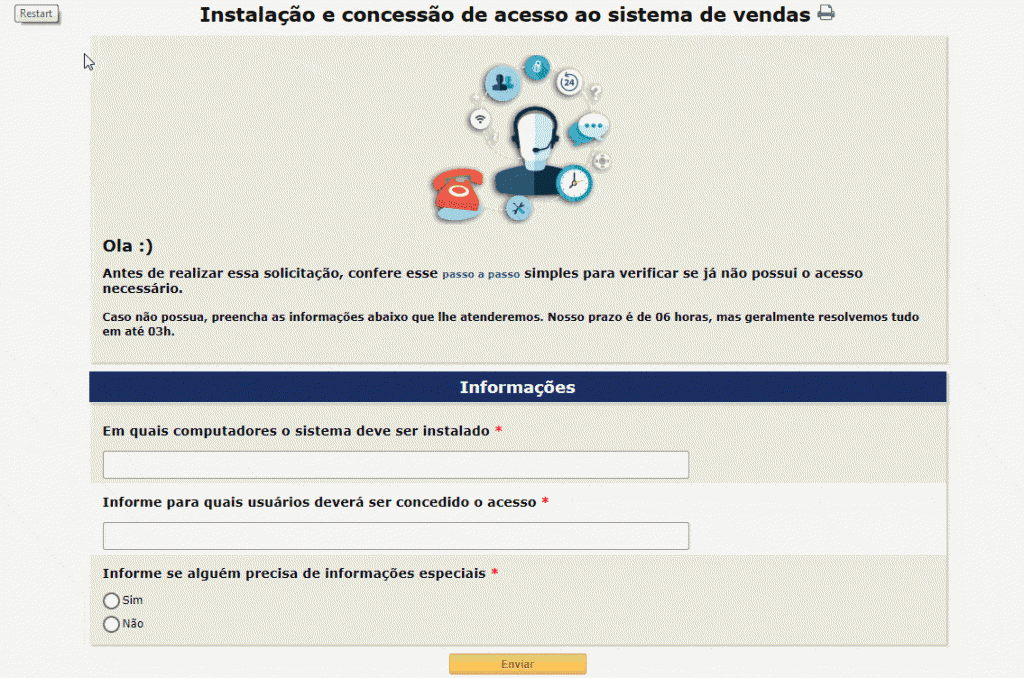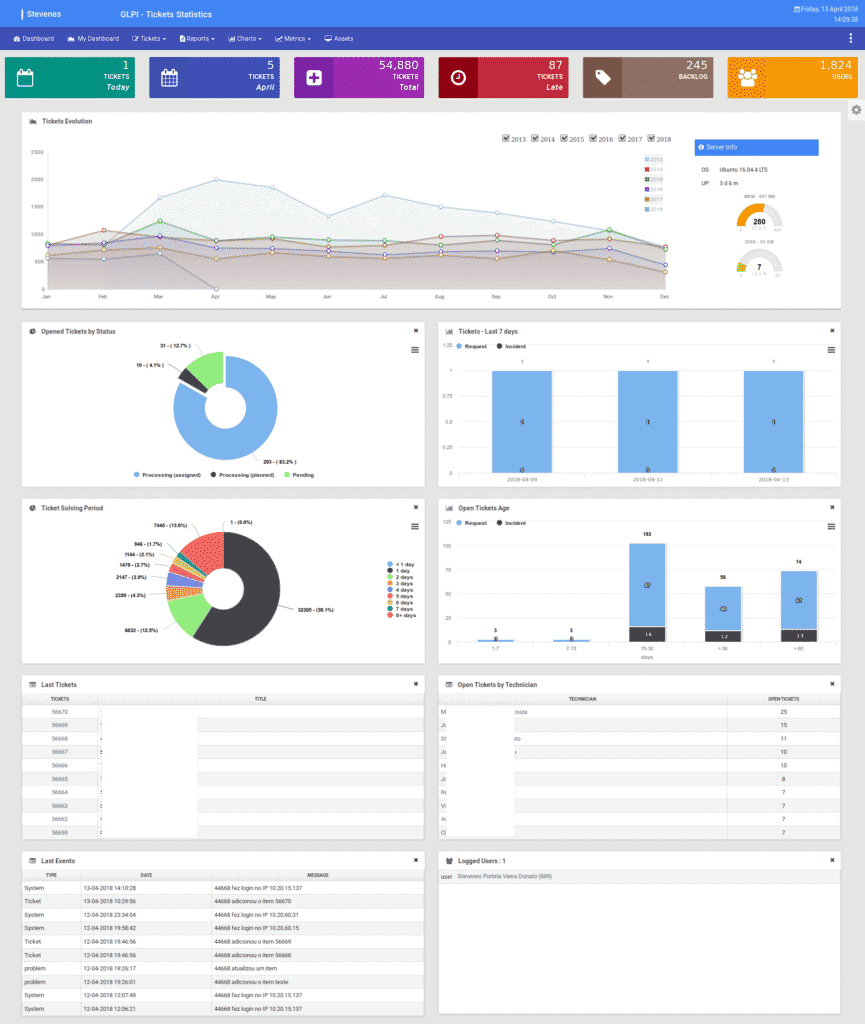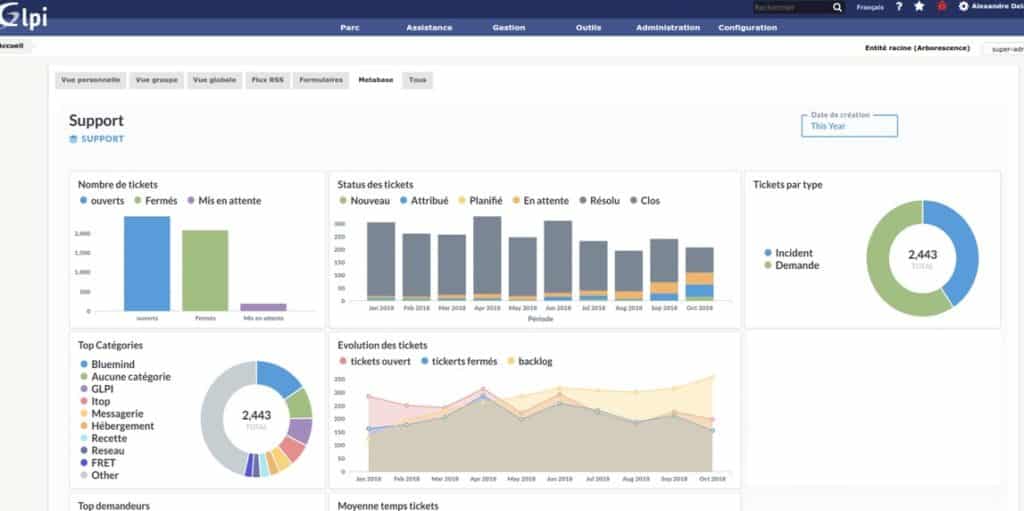 The 3CX unified communications software combines the functions of a telephone exchange (PBX) with those of Live-Chat and Videoconference, allowing it to accommodate the requirements of companies distributed geographically and / or with remote workstations while maintaining reliability and reducing the cost of communications.
With this solution it is possible to guarantee the continuity of the companies' business through:
Web, on-premises or Cloud configuration interface adapted to telework requirements;
Completely free web application for communication via website and / or videoconferences;
Live-Chat application that can be easily integrated with any website, allowing the full operation of the support and commercial teams;
Use your office extensions anywhere using the 3CX apps for Android, iOS, Windows, Chrome and Edge;
Integration of calls with CRM Applications via Web Browser;
Call-Center features (Agents, Queues, Rerouting, Advanced Assignments, Call-Back, Ticket Escalation)
Are you interested in finding out more? Talk to us or press the link at the bottom of the page for a sample.
The NEW.IVR tool developed by NewAlliance IT is a professional answering and automatic forwarding system for Voice, SMS and WhatsApp calls that allows any company to have a virtual receptionist who forwards, treats and personalizes the experience of any incoming call and message, 24 hours a day, 7 days a week.
The advantage of this system over a typical telephone exchange is:
No initial investment in infrastructure and maintenance costs;
Multilingual service in more than 35 different languages;
Add your various points of contact in a single personalized service;
Forward incoming calls / SMS / WhatsApp to any fixed or mobile numbers, national or international;
Customize routing based on time of day, time zone, language, country, active user, etc;
Increase the productivity of your employees.
The Cloud implementation allows you to have a fully functional system within a few hours - talk to us or press the link below for a sample.
NewAlliance IT as an authorized Masterway distributor provides all the parameterization, integration and support services to the most agile ERP / CRM on the market, without initial implementation costs, entirely in the Cloud and in a structure certified by ISO 9001: 2000, 14001: 1996, ITIL , BS 7799 and BS 15000.
The advantages of this system compared to typical ERP suppliers (PHC, Primavera, Sage and SAP) are multiple:
Certificate No. 2153 issued by the Tax Authority (AT);
No implementation costs and free support via phone, email and livechat;
Responsive layout compatible with Microsoft Edge, Firefox, Google Chrome and Safari;
Dashboards to analyze your business activity in real time, through simple and easy to understand graphs;
Direct integration with WordPress and WooCommerce websites for automatic invoicing and importing customer data;
Integration with multiple payment platforms for automatic generation of ATM references and receipts upon payment;
Personalization of the profile and documents by importing the logo and editing the color and layout;
Automation of all Commercial, Accounting, Pre-Sales, Sales, Post-Sales and Project Management processes;
Instantly increase the productivity of your employees, reducing their fixed costs.
Have a fully functional billing system in 24 hours and start billing your customers quickly and securely - talk to us or press the link below for a sample.